Anaphylaxis is a medical emergency, however, with all anaphylactic reactions, a biphasic anaphylactic response is possible. This like a second wind of the reaction, yet there is a clear time distinction between the two. With anaphylaxis, there would be an immediate reaction to the trigger. The biphasic anaphylactic response then follows. These second reactions can occur in as many as 20% of anaphylactic cases.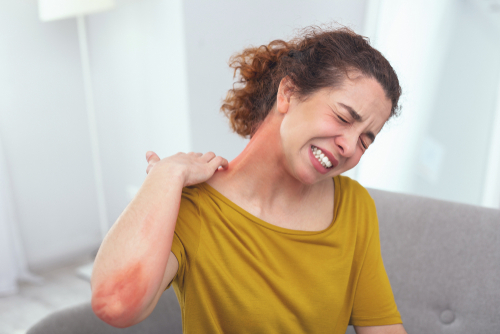 This reaction can take up to 72 hours to happen. Consequently, it could happen after discharge from the hospital from the first reaction. The biphasic reaction can be less, equally or more severe than the initial reaction. Predicting if a second reaction will occur is not easy, but the more severe the reaction or when two auto-injectors are needed the higher the chance of a recurrence.
Anaphylactic Response
Being aware of possible biphasic responses is important if you are caring for someone so you can monitor the patient just in case. If you are administering First Aid, then it may be worth telling them to watch for additional symptoms after hospital discharge. Knowing this is important, but remember every anaphylactic patient is sent to the hospital. There they will advise on the actual care they think is needed after discharge from the hospital. Finally, always make sure they have a spare auto-injector once discharged from the hospital. This is just in case of a biphasic anaphylactic response and, as said earlier, it can be very hard to predict if one will occur. Remember that someone should monitor the patient closely for up to 72 hours after the first attack.
For more information on training courses, visit our "Courses" page which also includes our First Responder and First Person on Scene (FPOS) Courses. If you have any queries, don't hesitate to contact us via our website or call us on 01206 805359.