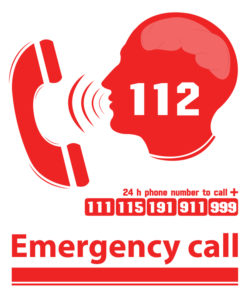 There are lots of cases where you may have to call the Emergency Medical Services. This can include any serious road traffic accidents, serious burns, drowning and major bleeds. Calling the Emergency Medical Services (EMS) is simply done by calling 999 or 112. 999 is the UK wide phone number. 112 is the European number but it works in the UK as well.
If your phone says you do not have any service, it is worth trying to call anyway. Your network may not have service in the area, but emergency phone calls will work if there is a signal from any network.
Talking to the Emergency Medical Services
The phone operator will ask you what service you require: Fire, Ambulance, Police or all of them.  Speak clearly and answer all questions as best as you can.  They will need your location but they may be able to track you from your phone number. "What3Words" is a newly-created app for smartphones which gives your exact location, accurate to roughly 3 meters, as a set of three words. This covers everywhere on the globe and is a good way of finding your location if you are unsure of where you are. You can register to call the EMS by text message if you are hard of hearing.
For more information on training courses, visit our "Courses" page which also includes our First Responder and First Person on Scene (FPOS) Courses.