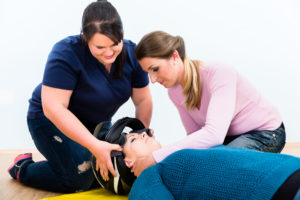 The treatment for head injuries is basically the same:
•   Be aware that there could be a spinal injury
•   Treat for bleeding
•   Activate EMS
•   Lie patient down with head and shoulders raised
•   Monitor the patient's breathing
•  Do not give them food or drink.
Finally, it is worth mentioning what to do if the patient is wearing a helmet. A helmet could be a cycle helmet, riding helmet or full motorcycle helmet. These are very good ways of reducing head injury and they are best left on as by removing them you may make things worse or put an extra strain on the neck. The reason for removing it would be if you cannot maintain an open airway or if they are not breathing.
If you do need to remove the helmet, you must do it slowly and carefully ideally with two people. First, make sure you remember to remove the strap and have a good look to see what you are going to do. Then one person holds the helmet and the other supports the neck as the helmet is removed. Keep the helmet close as that usually goes with the patient to the hospital, as the marks on the helmet can be an indicator of what happened.